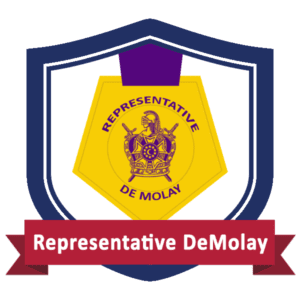 The Representative DeMolay Award
The Representative DeMolay award was designed by our Founder, Frank S. Land to encourage and reward DeMolay members for growth and development in various areas of life. Those who hold this award are deemed truly representative of the ideals and purposes of DeMolay. They are, in effect, spokesmen and ambassadors for DeMolay.
The Representative DeMolay program is one of continuing self-evaluation. A DeMolay may apply for the award after their first 6 months of membership and can reapply for the award as they age. The self evaluation is available for DeMolays aged 12-14, 15-17, and 18-20. Every DeMolay is invited to complete the self evaluation once for each age group. For example, those joining at age 12-14 may complete this evaluation up to three times before hitting majority. The program covers six major areas:
Mental Development

Physical Development

Social Development

Emotional Development

Spiritual Development

DeMolay Activity
The self evaluation form will be more involved as a DeMolay ages. Each attempted application for the award must be submitted along with a recommendation from an advisor and a recommendation from a parent/guardian.  A copy of a recent report card is also required.  The self evaluation forms are linked below. They are in .docx format and may be completed either in one sitting or may be partially completed and saved for future completion. Typed forms are preferred, but if the forms are completed at a chapter meeting or some other unique setting, neatly handwritten forms will be accepted.  
Those successfully completing the RD requirements for the first time will receive the RD medallion during a formal ceremony and will be invited to the Annual RD Review.  Subsequent attempts to earn the RD will not earn a Medallion, but will earn an invitation to the Annual RD Review. DeMolays completing their RD within one week of the Annual RD Review date may be invited to a subsequent year's review.  
At the Annual RD Review, the RD recipient will have 30 minutes to discuss their RD with a board of advisors. The board of advisors may ask any relevant question and will then select the one RD from each age group who best displayed the virtues of DeMolay during their interview. This DeMolay will earn the title of RD of the year for their respective age group. Prizes will be awarded at Convention.
Participation in the Annual RD Review is optional and will not affect eligibility to receive the RD medallion. 
Please submit all forms and any questions to Dad Strucek, Director of Awards, at astrucek@njdemolay.org.
*NJ DeMolay thanks PA DeMolay for their tremendous work in creating these forms and for allowing their use in the Jurisdiction of NJ