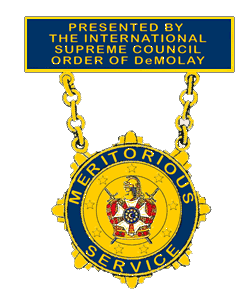 Past Master Councilor's Meritorious Service Award
The Past Master Councilors Meritorious Service Award (PMC-MSA) was originated by the Founder of the Order of DeMolay, "Dad" Frank S. Land. He recognized the tremendous advantage gained by the Master Councilor in having a pre-planned program for his term of office. When such a program has been planned and distributed to the Chapter membership in printed form, the Master Councilor has gone a long way in achieving goals he has set.
While the newly elected Master Councilor is the only one qualified to apply for and achieve the award, he cannot do it alone. The requirements can only be met through the combined efforts of the entire Chapter. The Master Councilor must provide the leadership to inspire his fellow DeMolays toward a well rounded program.
"Dad" Land wrote the qualifications for the award and designed the jewel which is now proudly worn by those who have accomplished success in their term as Master Councilor. We hope that you will qualify for this coveted award.
Your term plan should include the following:
Civic Service
Fund Raising
Social Activity
Athletic Activity
Masonic Service
Youth Protection
In addition all Obligatory Days that fall during your term:
Education Day (September)
Frank S. Land Day (November)
Day of Comfort (November or December)
Patriots Day (February)
Devotional Day (March)
Parents Day (May or June)
Government Day (July)
This form and your term calendar must be received by the Director of Awards within 10 days of your chapter's installation of officers to qualify for the PMC‐MSA.
Please Email the completed application below to Dad Andrew Strucek at astrucek@njdemolay.org.